Slade Wilson volunteered for a medical experiment designed to stimulate his adrenal gland in the hopes of increasing a soldier's ability to resist truth serums. The experiment did not go as expected and Slade fell into a coma. When he awakened however he found out he could use 90% of his brain capacity and his strength durability and agility were increased. Now he is able to lift probably near 2,640 pounds.

Identity: Slade Joseph Wilson
Powers: Agility, Longevity, Durability, Enhanced senses, Healing factor, Reflexes, Super speed, Super strength, Toxin and disease resistance, Weapon-based powers, and Weapons master
First appearance: New Teen Titans #2 (December, 1980)

Overall power score:11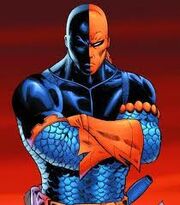 Ad blocker interference detected!
Wikia is a free-to-use site that makes money from advertising. We have a modified experience for viewers using ad blockers

Wikia is not accessible if you've made further modifications. Remove the custom ad blocker rule(s) and the page will load as expected.